The tactic of government officials impairing the most highly visible and valuable services in order to make funding cuts really hurt is so well known that it has a name and even a Wikipedia entry: The Washington Monument Syndrome. That means us rubes just might look it up and realize what's going on this week during the government shutdown—or, as Fox News more appropriately calls it, "government slimdown."
In theory, a total lapse in funding shouldn't be an opportunity for bureaucratic game playing: Services are either essential and remain functioning as per the Anti-Deficiency Act, or they are closed. But under the Obama administration, shutdown means finding ways to turn off things that don't have an off switch or don't require work to maintain. A few examples:
The National Mall: The Obama administration's Office of Management and Budget instructed the National Park Service to put up barriers to the monuments on the National Mall. That included the World War II Memorial (funded mostly by private money, by the way). On Tuesday, a group of World War II veterans arrived to visit the memorial as part of the Honor Flight program. The barriers carried the message "Because of the Federal Government SHUTDOWN, All National Parks Are CLOSED," but someone moved the barriers aside, letting World War II veterans visit the World War II Memorial.
The group had appealed for help arranging its visit directly to the White House, but was turned down. [Daily Caller, October 1] The Park Service also told one Honor Flight group that was planning a Friday visit that its members faced arrest if they tried to enter the closed monument. [NorthWestOhio.com, October 1]
On Wednesday, as Paul Bedard notes, more federal employees were sent to re-fortify the barricade at the World War II Memorial than were detailed to stop Islamic terrorists attacking U.S. embassy personnel in Benghazi, Libya. [Washington Examiner, October 2] Later on Wednesday, the Park Service announced that the World War II Memorial would be opened—but for veterans only!
Park Service Police are still on duty because they are deemed essential employees. They are essential, we gather, for telling citizens to leave open-air spaces that are not normally patrolled. That's how shut down this government is!
Claude Moore Colonial Farm: The Park Service also shut down Claude Moore Colonial Farm in McLean, Va., even though it is entirely funded by a private non-profit organization. The Park Service says it has to shut down the site because it sits on federal land. However, Anna Eberly, Managing Director of Claude Moore Colonial Farms, told supporters by email that the Farm had never been closed down during previous budget impasses. Eberly continued: "You do have to wonder about the wisdom of an organization that would use staff they don't have the money to pay to evict visitors from a park site that operates without costing them any money." [Townhall.com, October 2]
Bus Turnaround Lane at George Washington's Mount Vernon. George Washington's Mount Vernon is also operated by a private foundation, and the Park Service can't close it down because it doesn't own the land either. But the service still did what it could to make itself a nuisance by putting up barriers to the bus turnaround lane just outside the site. The bus turnaround lane is on land owned by the Park Service. Check out the photo posted by Newt Gingrich: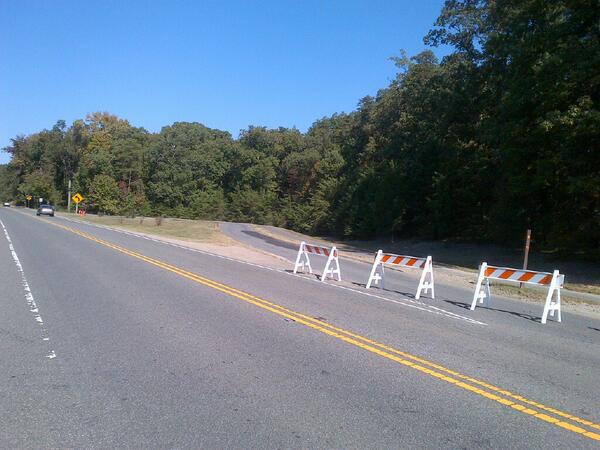 Government Websites. A number of government websites are carrying the message: "Due to a lapse of federal government funding, this website is unavailable. We sincerely regret this inconvenience." But if you go to a government page and get that message, then you're still on the government page. Nobody turned anything off; they just changed the content. Does that make sense? Julian Sanchzez says it's possible but unlikely there is a security reason for walling off the regular content. He notes:
The main page at NASA.gov redirects to a page saying the site is unavailable, but lots of subdomains that, however cool, seem "inessential" remain up and running: the "Solar System Exploration" page at solarsystem.nasa.gov; the Climate Kids website at climatekids.nasa.gov; and the large photo archive at images.jsc.nasa.gov, to name a few. There are any number of good reasons some of those subdomains might be hosted separately, and therefore unaffected by the shutdown—but it seems odd they can keep all of these running without additional expenditures, yet aren't able to redirect to a co-located mirror of the landing page.

Still weirder is the status of the Federal Trade Commission's site. Browse to any of their pages and you'll see, for a split second, the full content of the page you want—only to be redirected to a shutdown notice page also hosted at FTC.gov. But that means… their servers are still up and running and actually serving all the same content. In fact they're serving more content: first the real page, then the shutdown notice page. If you're using Firefox or Chrome and don't mind browsing in HTML-cluttered text, you can even use this link to navigate to the FTC site map and navigate from page to page in source-code view without triggering the redirect. [Cato Institute, October 1]
Bonus Shutdown Melodrama: FLOTUS's fingers furloughed from tweeting:
Due to Congress's failure to pass legislation to fund the government, updates to this account will be limited. #Shutdown
— FLOTUS (@FLOTUS) October 1, 2013
FLOTUS, of course, is the Twitter handle for First Lady Michelle Obama.