President Obama released his FY 2012 budget proposal on Monday. The long and the short of it is that he proposes to spend $3.7 trillion next year, while running a deficit of $1.1 trillion. Overall spending would be about $90 billion less than in 2011, but still about $263 billion above 2010. Here's a smattering of thoughts, observations, and factoids:
Exploding deficits. Deficits have average 2.1 percent of GDP over the past 50 years. That ratio explodes under President Obama's budget, as this chart from Keith Hennessey shows:
President Obama's claims to the contrary earned a "false" rating from Politifact.
A plan for more debt. James Capretta at National Review: "Starting with the bottom line, according to the administration's own numbers, the 2012 budget would push debt (held by the public, not government trust funds) up to nearly $12 trillion at the end of 2012. That's up from $5.8 trillion at the end of 2008. So the federal government will have borrowed as much during President Obama's four-year term in office as it had during the previous two-century-plus history since the Republic was founded in 1789. And that's before the entitlement-spending explosion associated with the Baby Boom retirement hits with full force. Over the coming decade, spending on Social Security, Medicare, Medicaid, and Obamacare's new entitlements will soar, from $1.6 trillion in 2011 to $3.0 trillion in 2021, according to the Congressional Budget Office. … [B]y their own numbers, the budget would run deficits of $7.2 trillion over the next ten years, pushing the nation's accumulated debt to an astounding $19 trillion in 2021, or nearly 80 percent of GDP." ["Obama's Plainly Unserious Budget," National Review, February 17, 2011.]
What if interest rates go up? Andrew Stiles: "[I]f the current rate stays at around 3.6 percent for the remainder of 2011, as opposed to the administration's rosy projection of 3 percent, more than $800 billion will be added to the debt over the next decade. That alone would almost completely undo the $1.1 trillion in deficit reduction projected in the White House budget." ["Not a Credible Document," National Review, February 16, 2011.]
Counting on economic growth? Veronique de Rugy and Nick Gillespie: "Higher growth rates allow the president to foresee a reduction in unemployment from its current 9.3 percent to 8.6 percent next year. That means less unemployment benefits to pay out and it explains half of the projected reduction in spending from 2011 to 2012. Yet even if the president's growth and revenues do materialize, we're still in deep trouble. We are still left with a $1.1 trillion deficit in 2012 and with a cumulative $7.2 trillion deficit over 10 years. That's $7.2 trillion that the federal government will have to borrow in the best-case scenario. And that explains why the debt held by the public is set to double in the next 10 years from $9 trillion in 2010 to over $18 trillion in 2020." ["This Is No Way to Win the Future," AOL News, February 15, 2011.]
Fannie and Freddie's Fate? The editors at National Review: "Obama's proposal predicts that the costs of bailing out Fannie Mae and Freddie Mac—the government-sponsored enterprises that contributed mightily to the housing bubble and the subsequent 2008 fiscal crisis—will be cut in half. How precisely that will be accomplished is a mystery, especially given the unlimited line of credit that the two enterprises enjoy courtesy of the U.S. Treasury and the Obama administration's steadfast refusal to downsize or dismantle these beasts."
Gimmicks. The Heritage Foundation's J.D. Foster: "Having pushed discretionary spending up rapidly in the prior two years, the President proposes to reduce 2012 discretionary spending by 5 percent, though he does so only by virtue of three simple and obvious budget gimmicks: 1. Redefining Pell grants as mandatory spending. Stripped of this gimmick, discretionary spending jumps by $14 billion in 2012. 2. Reclassifying $54 billion of surface transportation spending from discretionary spending to mandatory spending. 3. Spending the peace dividend. The budget proposal includes spending for military operations in Iraq and Afghanistan, referred to as "overseas contingency operations," as discretionary spending and reduces funding for these operations by $38.2 billion in 2012.[Internal citations omitted.] Reversing these budget tricks lifts 2012 discretionary spending by $106.2 billion for an overall $31 billion increase in discretionary spending." ["President Obama's 2012 Budget Builds on Failures of the Past," The Heritage Foundation, February 14, 2011.]
"Cuts" in perspective. Dan Mitchell: "Even with the supposed 'cuts' in Obama's budget, there will be: 112 percent more spending for the Department of Agriculture; 100 percent more spending for the Department of Education; 154 percent more spending for the Department of Energy; 110 percent more spending for the Department of Health and Human Services; 175 percent more spending for the Department of Labor; and 82 percent for the Department of Transportation. And remember that inflation was less than 30 percent during this period." ["Deconstructing the Revenue Side of Obama's Budget," Cato-at-Liberty, February 15, 2011.]
There is no 10-year budget. The most certain thing we can say about Obama's 2012 budget is that it increases the deficit by $1.1 trillion. What the deficits are in future years will really be determined by the budgets that get passed in those years, Yuval Levin reminds us. ["Year by Year," National Review, February 15, 2011.] One way of assessing how faithful future budgets will follow this year's projections is to compare this year's actual budget to previous year's projections. Here's a Mercatus chart making that comparison: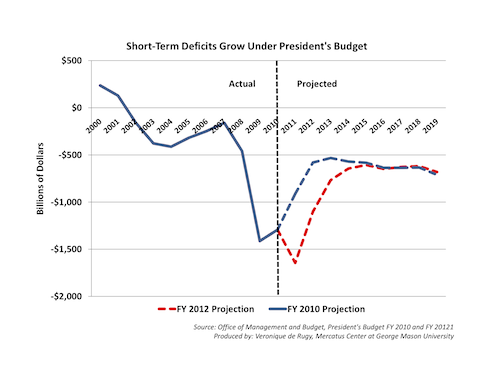 Bad tax policy. Dan Mitchell: "What's especially disappointing is that the Administration stuck with these bad ideas when the President's own fiscal commission proposed lower tax rates and base broadening. Those proposals would have increased the overall tax burden, so they definitely were not pure supply-side economics. And the Commission also proposed an increase in the double taxation of saving and investment, which also would be unfortunate. But at least the Commission proposed to do the wrong thing in a good way. Yes, taxes would have increased, but the damage would have been ameliorated by a better tax structure. Obama's budget, by contrast, does the wrong thing in the worst way – increasing the tax burden while also making the tax system more unfair." ["Deconstructing the Revenue Side of Obama's Budget," Cato-at-Liberty, February 15, 2011.]
More good reads. Conn Carroll's "Morning Bell: Is This Program Worth Bankrupting My Child?" (The Heritage Foundation, February 17, 2011) has a rundown of some ineffective programs that continue to be funded. See also: "Obama Budget Offers Inertia, Not Hope and Change," Michael Barone, Washington Examiner, February 15, 2011; "Morning Bell: Obama Budget Doubles Down on Deficit Spending Failure," The Heritage Foundation, February 15, 2011; and "The President's Budget: Whistling Past the Graveyard," by Keith Hennessey, February 14, 2011.